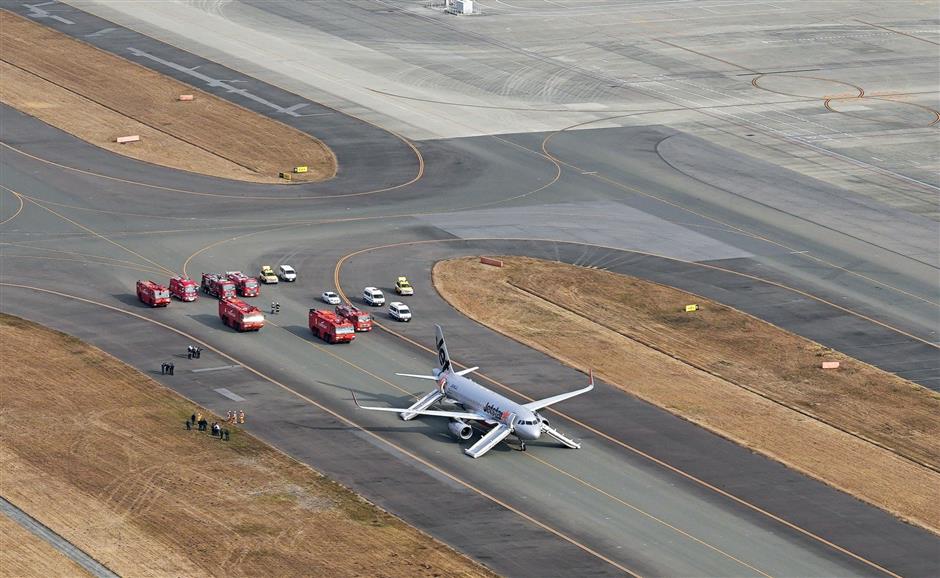 Imaginechina
Photo taken from a Kyodo News helicopter on January 7, 2023, shows a Jetstar plane at Chubu Centrair International Airport in Tokoname, Aichi Prefecture, central Japan, after the budget carrier made an emergency landing following a bomb threat.
A domestic flight operated by low-cost carrier Jetstar Japan Co made an emergency landing on Saturday morning at an airport in central Japan following a bomb threat, local media reported.
According to police and airport officials, the aircraft made an emergency landing in Chubu Centrair International Airport in Aichi Prefecture at around 7:40 am local time, Japan's public broadcaster NHK reported.
There were reports of injuries upon escape from the aircraft following its emergency landing, it added.
Investigators said an international phone call was received around 6 am local time, with a man's voice claiming to have put a bomb on the aircraft. But as of 10 am local time, no explosives or other suspicious items were found, according to NHK.
The plane, bound for Fukuoka from Narita airport near Tokyo, was carrying 136 passengers and six crew members, said the flight operator.